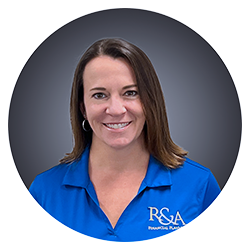 Vicki DiAngelus
Vicki joined Rogan & Associates in 2021. She graduated USF with a bachelor's degree in Interdisciplinary Social Sciences in 2003. After graduating, started a family and spent the next 10 years living in Minnesota raising 3 boys and managing a home childcare business
When the boys got a bit older, Vicki branched out and accepted a position in the child welfare field. Her areas of responsibility lay in adoption case management and foster care licensing. After moving the family back to Florida, she was hired to open and manage the Florida Autism Center in Clearwater. Following that, she continued her career managing two dental practices in Dunedin and Palm Harbor.
She married Rob in 2017, creating a blended family with five kids. Their children are advancing quickly in school, and four of the children will be graduating from high school during the next 5 years. Vicki was born in Minnesota and still harbors a love of the 'cold country', going back to visit family and friends in the frozen north on a regular basis.
Vicki is very family oriented and appreciates living close to all her immediate family in Florida.
The entire DiAngelus family holds a special place in their hearts for animal rescues and have a particular love of Pitbulls. Currently, they have a brindle Pitbull, a Cowboy Corgi, and a tabby cat. As younger sister to Amy Rogan, she gets to blend her family life with her work life as well.
As a Financial Planning Assistant, Vicki provides support to the Rogan Team Planners and most importantly, as Vicki is quick to point out, the hundreds of families they serve. As you may have guessed by now, Vicki loves expanding her knowledge base and being of service to those around her. As if all that wasn't enough, she also occupies a key roll on the Rogan Event Planning committee.