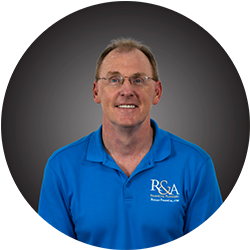 Dan Huehn
Dan Huehn joined Rogan & Associates Financial Planners in 2015, following more than 25 years in corporate financial management. His assignments took him around the globe. Dan has spent extended periods of time working in New Zealand, Belgium, and France. At Rogan & Associates, he brings his clientele many years of real world financial experience. In addition to his corporate financial expertise, Dan is a lifelong student of economics and global investing.
Dan graduated from the University of Virginia and was a classmate of Michael Rogan, the firm's founder. They both majored in economics and have remained close friends throughout the years. Dan went on to receive both a Master of Business Administration from Cornell University and from Katholieke Universiteit Leuven in Belgium.
Dan and his wife Laura make their home in Carrollton, Texas along with their two rescue Pekinese, Moxie & Courage. Dan serves on several local community boards, enjoys history and travel as well as running an occasional marathon.