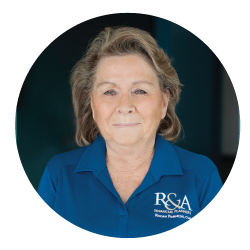 Diane Jennings
Diane joined Rogan and Associates in 2011 bringing with her a wealth of administrative and operational experience. Early in her career she served as Administrator to the Chief of Staff and Director of a major Veterans Administration Hospital. A variety of Administrator positions took her from Maryland to California and, finally, to Florida where she transitioned to the private sector.
Prior to joining Rogan and Associates in the role of Operations Manager, Diane spent a decade providing administrative and operational support to individual and institutional clients at a highly successful hedge fund located in St Petersburg, Florida. When the hedge fund principals retired, Rogan and Associates was fortunate enough to retain her services.
Diane has two grown sons and two grandsons who are truly the light of her life. Besides attending her Grandchildren's baseball games and other events, she loves to read, and enjoys boating, as well as, spending time on the beautiful beaches of the Gulf of Mexico.